Hawaiian Aloha Shirts: Barebreasted To Barethreaded
BY BUCK QUAYLE

Hawaiian Aloha Shirts
Your mission, Rev. Hale, is to spread the Hawaiian Aloha Shirt around the world.  And make a strong fashion statement.
If you're a young lady who'd like the freedom to swim and sun bare-breasted in Hawaii-or even live that way as was the custom-you may be either a couple of hundred years too early or too late.  The missionaries did their job too well.

The women who used to wear only a leaf skirt, similar to a hula-skirt, and the men only a bark-beaten loan cloth-are now covered up.

Perhaps this will evolve into a more "French-Riviera" style under the prodings of the Hawaiian residents who tend to be Califorians or Japanese.  The Califorians are easy, and loose, and live and let be.  The Japanese are now where did I leave my tiny towel in the public bath house?

But once the missionaries force-fed western-style shirts and pants and blouses and dresses upon the natives-these same accepting people began to modify their threads.

One of the most striking developments was that of the hawaiian shirt or Aloha shirt.  A forerunner to the Hawaiian Aloha shirt,  alive with island scenes, with geometrics and pineapples and hula skirts and palm trees and hybiscus blossoms, was the 1920's on-back Palaka shirt.  These were short-sleeved shirts with a plaid design worn by plantation workers.

Also present were home-made shirts cut from leftover Kimono fabric.  Bright Chinese silk garments and cloth were added to the mixture.  As were the Barong Tagalogs-untucked shirts from the Phillippines.

At first from cotton and silk, usually, and later from Rayon "false silk-more silky than silk" the new Hawaiian shirt developed in the early 1930's.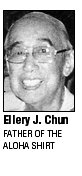 In the mid 30's, a Chinese merchant, Ellery Chun, together with his sister, Ethel Chun Lum, placed one of her fancyful short-sleeved shirts in their window at 36 North King Street in Honolulu.  They added a sign that said "Aloha Shirt". 

This was the beginning of proliferation.  Of a Chun-fostered fashion statement.  Of a new industry.  The Hawaiian Shirt.  The Aloha Shirt.

Born in Honolulu in 1909, where he attended Punahou School, Chun left for the States, where he attended Yale.  In 1931 he graduated with an economics degree and returned to Hawaii in the middle of the depression. 

He then took over his father's dry goods store, which had been serving the Chinese community.  Chun changed the name to King-Smith Clothiers and dry goods.  He upped the ante and broadened the appeal.

There's a story of a Honolulu Advertiser newspaper salesman who, together with Chun, came up with the "Aloha Shirt" name, as it appeared in an ad on June 28, 1935.  Probably that designation had been floating around the streets prior to this time.

The shirts began to sell like crazy, and others quickly followed suit.  Many new island designs were developed and tourists snapped them up.  Hollywood jumped on the bandwagon as well.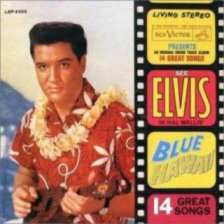 Remember those old Elvis movies.  Great propaganda.  Not to mention John Wayne, Johnny Weissmuller, Tom Selleck, Duke Kahanamuku, Montgomery Cliff, Bing Crosby and Frank Sinatra.  U.S.President Harry S. Truman as well.

Chun kept busy, importing cloth from the U.S.  At first two or three dozen of this shirt, then two or three dozen of that.  Then more and more.  Some of these old shirts are now collector's items and sell for hundreths and ,even, thousands of dollars.



In the late 1930's, Chun sponsored a radio talent show which broadcast in front of the Moana Surfrider Hotel.  This brought even more publicity and more sales.

In 1945 he joined the Board of Directors for American Security Bank.  Later he became Vice President, a full-time job, and sold his original store.  In 1966, he retired, remaining on the Board until 1980, and as an advisory director until 1985.

On May 16, 2000, Chun died in Honolulu at the age of 91.  Even though he didn't invent the garment-he did create the Aloha Shirt industry.

This good-old-boy from Punahou, served the missionary mission of covering christians in a right powerful way.

So from the Maui of Yore-bearbreasted-to the Hawaii of Today-gaudy chested-the Aloha Shirt saga wears on...threadbare.


To Go From Hawaiian Aloha Shirts To The Maui Of Yore-Click Here


To Go To Tie Dyeing From Hawaiian Aloha Shirts-Click Here



To Go To Hawaiian Words-Click Here


To Go To Hawaiian Printing-Click Here


To Go To Maui Sacrificial Temples Update-Click Here


To Go To Whales-Click Here


To Go To Vogue On Maui-Click Here