MAUI NEWSPAPER UPDATE
By Buck Quayle

Thinking of a newspaper update from Maui, I was surfing the web when I discovered this excellent story by Valerie Muroki.  She called it "Maui's Newspaper Wars" and it was published in the Haleakala Times.  This paper, which you can read online, occupies the equivalent position of "my" old Lahaina Sun.

While, in my mind, I was never at war with the staid Maui News-whose reporting was accurate-I just wanted to shake things up.  In this respect, the publisher of The Lahaina Sun, Don Graydon, and I were two peas in a pod.  We were cloned.  While contesting and proding-in the middle of every fight on the island-we also tried to write to entertain.

Valerie said we were the first of a long line of newspapers to take on the Maui News-and she's right.  Our generalized reception from the people of Maui was-not just good-but fantastic.  For a while-on Wednesdays-Don and I and artist Dave Brand, would deliver the newspaper ourselves from my portable-bedroom van.  Our laughting and smiling reception at each delivery point helped keep us going all week.

But now let me present you with Valerie's text-where she puts everything in perspective and brings us up-to-date.



---
MAUI'S
NEWSPAPER WARS
By Valerie Muroki

Published in  Haleakala Times, available online at haleakalatimes.com

 
In 1834, Maui's first newspaper was printed on a missionary-installed press in Lahaina. Did newspapers affect the history of Hawaii? American domination in the islands was surely influenced by the early press, since the printed word carried the weight of the public's acceptance. Until recent years, when television wooed us away with its considerable influence.

Nevertheless, it was over newspapers that the framers of the Constitution underscored the right to freedom of speech: freedom to inform the public as to the facts of government and politics, facts that would affect people's lives, livelihood and decision-making. An informed public can govern itself.  The Role of Newspapers in Hawaii, by Helen Geracimos Chapin (UH Press, 1996).

I ask myself: If I wanted to influence people, politics, Maui's unfolding growth and development, how would I do it? Run for office? Naw! Who'd listen to my campaign speeches? Maybe I could try talk radio? There's lots of stations; but most people want music, or to be amused. Own a newspaper? Well, certainly!

I asked myself that question during the 1990s when I was writing for several local rags: The South Maui Times (under publisher Kirk Munroe), Haleakala Times (I don't have to introduce Ken Pinsky to you!); The South Maui Weekly (one of its AKA's, under Ron Winkler, with Mainlander Bill Sniffen); the ill-fated Maui Tribune (under my former and once-again editor Alan Isbell, backed by the man-with-the-southern-drawl 'n cowboy boots, Danny McDaniel), which had a short run of five months before lack of business oversight drove it into the ground.

Anyone who publishes a newspaper has to ask what they would want to say to the public – and by what right they get to say it.

All newspaper publishers balance their roles as public servant, strongly opinionated member of the community, and businessperson trying to make money from advertisers.

Maui has had its own history of newspapers come and gone, and their publishers and editors of various stripes and leanings.

One Maui paper, from the beginning, seems to have sought the role of the establishment, gathering government, legal and other official notices, publishing the local weather forecasts, and offering an overview of a scattering of public meetings and community dissentions. Staid and compliant, The Maui News reporters and photographers are admitted as a matter of course to gatherings both public and quasi-private; The Maui News doesn't rock the power boat.

Across a thin line drawn in Maui's red country soil stands the less complacent Haleakala Times, which on the one hand offers itself as a community forum, and at other times peeks behind the curtain to give its readers a different view of power-and-money shenanigans cooking up another meaty stew out of Maui's rich, fleshy bones.

Establishment papers can be expected to float on middle-of-the-road money, and big money, belonging to powerful people who want the opportunity to paint their picture for the public.

As Ken Pinsky says in his editorial today, advertising dollars are split many ways. So how does a news journal stay in business?

It's not easy for the opposition press to maintain. What major developer that you know will throw his (her) money into advertising in Maui's "warn-the-public" small press? Where the big bucks don't show up, there, one might surmise, is a truly independent newspaper.

Let's follow our island newspaper industry. The Maui News: Founded in 1900, basically unopposed until the 1970s (when a couple of the little "independents" were brash enough to draw the public's – and advertisers' – attention).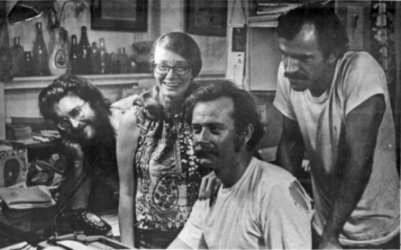 The Lahaina Sun : Buck Quayle, Sharmen Graydon, Don Graydon,  David Brann.
The two "upstarts" were, first,the Lahaina Sun (1970-82), considered the voice for the newly arriving hippies and other assorted haole. But owner Don Graydon's paper was read, and did make an impact; his "April Fools" editions are still recalled by long-time Maui residents. Graydon sold the paper to radio station owner Kirk Munroe, who saw the publication crash shortly after he took over, and after only a dozen years of operation.


A brief candle flame, burning but a year (1977-78), the Valley Isle entered the scene to take on a powerful giant, Big Isle rancher and politically well-connected Larry Mehau; but little "David" was attacked not only by its target but also by mainstream media in Honolulu. Owner-publisher Rick Reed, with no money for a high-powered lawyer, represented himself in court. In the end, he was not convicted of libel, after all.

The Haleakala Times has stood for some years now facing another competitor, a newspaper more its own size than The Maui News.

It's The Maui Weekly, first known as the South Maui Times, started in Kihei by Kirk Munroe, after the failed Sun collapsed. The SMT expressed Munroe's desire to entertain Kihei's business interests, meet local south coast residents' informational needs (Kihei is the fastest growing community in the state, remember), and become a financial success. Under Editor Alan Isbell, the paper gained community support and interest, with Munroe giving free rein to Isbell's passion for an eclectic mixture of digging into the serious issues and displaying an appreciation for the colorful residents of South Maui.

With growing readership confirming Munroe's vision, he expanded his plans, envisioning an island-wide newspaper which would give The Maui News some competition. The first sign of trouble came in the door with Linda Crockett Lingle's then-attorney husband. She sent him with a message: she hadn't been pleased with a Letter to the Editor from a disgruntled waitress who complained about Lingle. Munroe buckled under the legal threat. And he made business decisions that sent him down a, by now, well oiled slope towards insolvency.

Munroe set out to find a buyer.

According to editor Isbell, "He had promised me we'd work out something that would allow me to take it over. It didn't happen."

According to Ron Winckler: "We had been working with Kirk (Munroe) for six months" in order to purchase the South Maui Times, "which he had agreed. We'd lined up the capital." Winckler stated that he and partners learned that Munroe was still looking for higher bidders. So when Munroe was out of town, "we just started another paper."

Although Munroe reportedly spread the story that Winckler, Gayle Neal and others had "taken over" his newspaper, library research bears out Winckler's story: there's an overlap of four or five months between the March 13, 1997 premier issue of the South Shore Weekly and Munroe's final August '97 issue of the South Maui Times.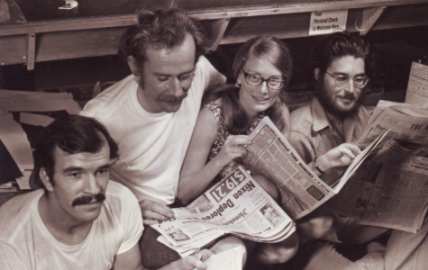 Winckler played with his new paper's name and banner for awhile: South Shore Maui Weekly, in August '97, when Munroe's paper folded; then in October the South Maui Weekly, all the while "Serving the Communities of Kihei, Wailea, Maui Meadows, Makena, Ma`alaea." Mayor Lingle "officially congratulates the new South Shore Weekly," headlined the new paper, not surprisingly, after her upset with Munroe over his paper's slight. Listed as a contributing writer by the end of Winckler's first year was long-time Kihei resident Gene Thompson, who has recently passed away.

By mid-1998, a new name had appeared without fanfare, and his face graced the editorial page: Bill Sniffen. The mainlander had been eying the paper for some time, Alan Isbell recalls, and at this point quietly slid in as president of the company.

By October 28, 1999, Sniffen was pleading on the front page for a buyer. "I've invested more than $250,000 over the past three years to make it economically viable, but the paper never did make it into the black," he wrote. His editorial in mid-issue said goodbye.

A month later, on November 25, running under the same banner the announcement came, "SOLD!" And, "South Maui Needs This Paper!" quoting the new owner, Joseph Sugarman, who "purchased controlling interest" in the South Maui Weekly.

Sugarman agreed to talk with this reporter, by phone, about his philosophy: "We like to make positive change in the community," sometimes by exposing both sides and sometimes "fighting for" what he believes is right. Sugarman said he wants to "provide a service, give suggestions and solutions," to community problems, and "let the people comment – even if it's against our paper."

Now known as the Maui Weekly, the banner has changed in another respect, no longer limiting its kuleana to the South Maui community.

In his December 11-17, 2003 issue, Sugarman's page 5 story headlines "Newspaper robbery," and notes concern over "non-delivery" via the post office. (See related story)

"We think we've solved the mystery of the newspapers," said Sugarman. "It isn't the post office. The police have been informed."

Sugarman noted Pinsky's 10-year effort with Haleakala Times: "I wish Ken all the best and I'm sure he believes he's serving a purpose in his community."

Winckler, who no longer works in the newspaper business, characterizes Pinsky's newspaper as "going into great details as an issues/cause-oriented paper. Some of the issues have needed to be tackled. Ken has kept a level of accountability" among government officials.

For five months, the Maui Tribune was also a contender in the competition to see who could take on The Maui News through island-wide distribution. Isbell, its editor, believed "The Trib" could do well "both from an advertising standpoint and an editorial standpoint by offering a real alternative. We published a helluva paper in those short months."

Popping onto the scene in June 1997 was another (then) bi-weekly newspaper, the Maui Time Weekly. Owner-publisher Tommy Russo had just graduated from Chico State with the intention of birthing a "modern or youthful alternative newsweekly." Operating out of Lahaina, Russo's paper has focused on the surf and sports scene.
Regarding Ken and Adrienne Pinsky Russo said, "Congratulations – it's quite an accomplishment" to have carried on the Haleakala Times for these ten years.

The Lahaina News remains localized in the West Side, having started out as an arm of The Maui News, and then going independent in the mid-90s under a hui. In 1994 the Maui News launched the Upcountry News through its Lahaina News branch. Upcountry News ceased printing in mid-1995 as Haleakala Times became established in the Upcountry area.

Who decides, in the end, the winners and the losers of the "newspaper wars?" The advertisers with their money keep the presses rolling. The readers can become quite passionate, either for or against, when their newspaper takes a stand on the issues that hit close to home: pristine ecology versus apartment complexes; education versus diploma mills; rising taxes with less government services. And publishers make decisions, often out of money concerns, sometimes out of a passionate heart, that urges the righting of perceived wrongs.

What will the headlines blare a year from now? Who'll be reading what? Where will the advertisers' bucks stop?

Ken Pinsky said, just the other night, that at the end of a day when he's worked hard and done the best he could on his newspaper, "I get that 'right livelihood' feeling."

Almost as good as makin' money.

Call To Action:Send Your Ships Out-So They May Come In!!!
The Maui Lahaina Sun:<br>News, Alerts and Offers
<b>Sign up right now!  Why?  Time-Sensitive Discount Vacations!  That's why!

With your name on the "Alert" list-you can strike while the iron is hot.  Even though you don't know how long it takes to heat up!

I've been offered several Discount Vacations and Cruises and am trying to provide the same for you.

You also receive Old and New News from Maui, Hawaii.  If you enjoy reading this site-you'll get more.

And we have Surprises!!!  Everyone likes nice surprises.  Especially when least expected!

Enjoy!

To Return From Newspaper Update To The Maui Of Yore-Click Here

To Go To Maui Beaches-Click Here

To Go To Discount Maui Airfare-Click Here

To Go To Hawaii Printing-Click Here

To Go To Jack London Haleakala-Click Here

To Go To Whales-Click Here



We hate spam as much as you do.

So please confirm your participation in our Thank You E-mail.

Thanks.  See you.