On Maui Beaches:
The Long Arm Of The Law Reaches
Bare Bottoms On Makena Beaches
On Maui beaches,in Hawaii,even a place called Makena, you can't run around nude. Except you can. Everyone who wants to does. It's kind of a long story.
As you'll read,here, sometimes arrests are made. This situation has not changed for the last forty years. Often some twenty or forty or more people, will spend most of their time living in remote Maui beach areas without clothes.
Just to briefly set the setting, back in the early 1970's, "My Editor" Don Graydon, with backup from teacher-wife Sharm, started up a new island weekly newspaper. Artist Dave Brand, an old college buddy of Don's, was already on board for advertising artwork. When I joined them, the four of us were The Lahaina Sun.
As one of my first assignments, I was forced to leave the typewriter in the smokey room, to track down and interview naked wahine (girls for you non-Hawaiians) on a Maui beach in paradise. Someone had to do it.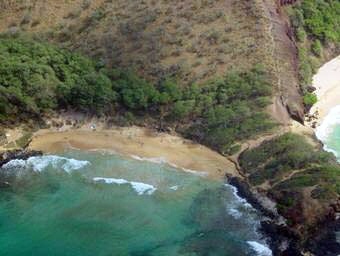 Raid On Makena
Bare Bottoms And The Law
BY BUCK QUAYLE
Is being arrested for indecent exposure at Makena Beach the missionary's karma coming back upon his race?
Or is it due to politics?
Is it a case of bigotry and offended morals? Of fear of different life-styles?
Or is it simply the fair and equal application of the law?
If you've lived on Maui for any length of time, you're probably accustomed to reading occasionaly about the arrest of a few naked persons in this remote Maui beach area, south of Kihei.
According to Police Chief Abraham Aiona, arrests are usually made when a private citizen registers a complaint.
Makena residents say this is not so.
They claim that prior to two arrests involving 14 "longhairs" last month, a vice squad police sergeant wandered down the Maui beach. They say he returned to the police station, filed a complaint, and returned with reinforcements.
Sgt. Hisao Ikioka of the Wailuku vice squad, replied, "You know we don't do things like that. Someone turned in a complaint both days and we went down to follow it up.
"If this was a case of political pressure we would be down there every day. There is no political pressure. We are merely enforcing the laws."
As Aiona put it, "I believe in being firm and being fair. I try to encourage the men to adopt a professional attitude with the public. I don't want them to judge persons by their appearance....We are the enforcement arm of the law. We enforce the laws that are on the books."
Aiona said the complaint about the nude bathers was filed by "a Kahului person in the area at the time." He said that the man was fully within his rights to make such a complaint and that the police were obligated to follow it up.
Aiona pointed out that a complaint is not necessary to make such an arrest in the first place. When an "on-view" crime is committed, he said, an officer should make an arrest.
Two groups of seven were arrested on consecutive days.
The first day, May 26, a raid was conducted at Poolenalena Beach, Makena. This Maui beach is hidden from the road by thick shrubbery and is situated about four miles down the pock-marked dirt road which runs along the coast from Kihei.
According to Marsha Hickman, "That morning a man wearing cut-off bermudas, with a fishing net over his shoulder, came walking down the beach. He was pretty nice to everybody, then he left."
Marsha later said she believed this man to be Sgt. Ikioka. She said she asked one of the arresting officers if someone had filed a complaint. "Nobody called in," he replied. Marsha said she later saw the name Ikioka printed on her arrest form under complainant.
At 10:45 that morning, Sgt. Ikioka, accompanied by officers Howard Tagomori, Kazuo Delos Santos, and Kawila Mahi, came down the beach, arresting naked persons along the way.
One man tried to run and was stopped at gun point.
Arrested were Marsha Hickman,21;Eugene Pera,45;Suzanne Lloyd-Davies,26;John Roberts,28;Ramon Farina,23;Barbara Paris,22;Diana Loomis,33.
Ramon Farina said "the cops weren't nasty, they were pretty nice-they didn't search for anything." He mentioned the man who had come down earlier in the day.
Marsha said the seven of them were put into a pickup truck and a jeep by the plainclothes officers. Three children also were loaded aboard: a two-year-old boy and two girls, ages three and five. They were first taken to the county jail between Wailuku and Kahului and then to the Wailuku jail.
According to Marsha, the kids were put in a jail cell with the men. The women were in another cell. The kids got scared and wanted their mothers. So they were yelling and crying. Meanwhile the longhairs started chanting Hare Krishna, and the place was in an uproar.
During the course of the afternoon, the seven gave "names, vital information, and all this jazz", talked to Public Defender Philip Lowenthal, and pleaded not guilty. They were all released on $75 bail, which one person loaned the others. They were out by 5 p.m. and on their way back to Makena for another naked day on the sand.
The next day a repeat performance was staged at Makena Beach proper. The area is called Long Beach, Makena, on police reports. Among the longhairs, the area is referred to as Big and Little Beach.
Again, Sgt. Ikioka and officers Tagamori, Delos Santos and Mahi participated. They were joined by officer James Viela. The police were wearing plain clothes and, with the exception of rookie Mahi, were packing pistols. The five men drove down to the Maui beach with the pickup truck and jeep. They carried walkie-talkies.
Before this fearsome array, bare-bottomed freaks fought through the folliage. At least one person escaped arrest by swimming out to sea.
Again, seven persons were arrested: Carlos Quijano,24;Lorraine Aronson,21;Linda Schoenfield,23;James Gibley,23;Larry Skelly,25;Barbara Brosman,25;Donald Silverman,21.
Quijano said most of the people were arrested in their huts-where they went to dress. He said arrests were never made on weekends when tourists come down to swim naked.
Quijano maintained the police came down to the beach when they were off duty because "they enjoy seeing wahine with no clothes."
"They sit down and look them over with binoculars," he said.
Eyewitness Robert Buol said he saw police point to one particularly freaked out individual in a group and say, "Get this one." The rest were ignored.
Nancy Smith, one of 44 persons arrested on Maui for indecent exposure last year, said, "It varies. Sometimes the police come down here two or three times a week. Sometimes not for a couple of months."
The question constantly raised was: Why can't there be one beach area on Maui where people can swim naked? And the next question: Why not Makena?
After all, proponets say, to reach this Maui beach one must drive down six miles of dirt road. It's not as if some unknowing person is likely to wander by and become offended.
Unfortunately, or otherwise, depending upon one's viewpoint, skinny-dipping types aren't prone to political action.
It appears the situation will remain the same. People will continue to run around naked and periodically be arrested. And so it goes.



---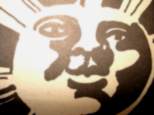 The Maui Lahaina Sun:
News, Alerts and Offers
Sign up-here-right now. No cost to you. Why?
Time-sensitive Discount Vacations and Cruises. (You may pay $535 for a cruise which normally costs from $1,500 to $2,000.) We'll see-I've been offered such cruises for myself. I am now trying to get the same thing for you.
Old and New News from Maui. If you've enjoyed reading this site-I'll give you more. (Use the Contact Page to let me know the stories you'd like to see.)
Surprises! Good stuff. Free stuff. Useful stuff. Stuff.
(I hate spam and won't share your E-mail. I may give you a form, to go to a third party for Discount Vacations, but that's it. You don't have to use the form, of course.)
Sign up now-for winning situations!!!
To Return From Maui Beaches To The Maui Of Yore-Click Here
To Go To Maui Sacrificial Temples Update-Click Here
From Maui Beaches To Banana Patch-Click Here
To Go To Romantic Maui Weddings-Click Here
To Go To Aloha Lawbreakers-Click Here
To Go To Newspaper Update-Click Here
To Go To Maui Bike Path-Click Here
To Go To Maui Car Rental-Click Here