Jerome: 
Getting It Together

By Buck Quayle

Jerome.  In and out of mental institutions, the army, communes, constantly on the move, the Maui artist known only as Jerome has had one constant in a long 26 years of life:  his art.

For years, he has constantly been sketching and painting in various media and finally is starting to "make a living" from the results.

Together with "Old Bill", another Maui artist, they have begun Haleakala Graphics producing posters and prints which are being seen more and more around Lahaina these days.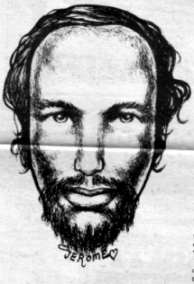 Jerome's self portrait 
Born August 25, l945, in Elmira, N.Y.-which makes him a Virgo/Leo-his early artistic bent was considered frivolous.  Until he started to get good.

Jerome went to school in Elmire, N.Y., an experience he would rather forget.

"I was always an intense kid.  Too intense, and constantly getting into trouble with the best of intensions."

Upon his release from parental guidance at the age of 16, he moved in with his uncle and attended Horseheads, N.Y., High School.  Before graduation, he won an art contest which enabled him to spend a summer at an art colony at Chitaqua, N.Y.

He then entered Syracuse University, taking night art courses and auditing classes during the day.

"I really dug that year.  I did a tremendous amount of art work which was technically fair though the subject matter was mundane."

Unfortunately, he ran into a little difference of opinion with college authorities over an off-campus living arrangement and was kicked out.

He had been living in a nine-dollar-a-week room on an allowance of $25 a week.  "The room had no heat and I had to boil water in a coffee pot for about two hours to get rid of the chill."

Tired of poverty, he enlisted in the Army because "I thought you had to have money to survive."

"Much to my chagrin as an enlistee, I found the Army extremely inefficient and spent a year stumbling in dazed disillusionment through a situation which was, as my buddies were fond of reminding me, entirely my own fault."

After a period of duty in Berlin, he applied to a transfer to Viet Nam and was sent "under" in 1966.  He worked in "terrain analysis" until he was successful in drafting illegal orders for his transfer to another unit within Viet Nam.

By the time the Army caught up with this tactic, he was entrenched as an artist, heading the graphics section of the propaganda leaflets department.  He was permitted to stay on.

As a part of the job, he flew over fire-fight areas in C47s and dropped leaflets while tapes broadcast in Vietnamese "told the V.C. they were going to lose.  But, alas, they never took the hint."

"At the time I felt anything done by the U.S. was all right.  I felt that confusion and strategic tailoring of available information were unavoidable.  I now feel differently."

"What I was doing didn't bother me until I turned on to "grass".  I found life could be pleasant-instead of a nightmare of responsiblities which had to me met by the manly infliction of pain on oneself.

"I first turned on at a beach by the South China Sea where women carried baskets of bananas, pineapples, apples, sodas, beer and cigarettes on their heads.  I laughted until I had to stop to keep from suffocating myself.

"Before that I'd never been close to anyone who used drugs.  I had heard you would get hooked, and I got hooked on the rumor."

Jerome had read of Timothy Leary in Time magazine.  The day of his release from the army at Fort Dix, N.J., in the spring of 1967, he called Leary at the Castilla Foundation in New York State.

"Someone picked up the phone and said, 'This is you'."  They talked for a while and he was told of the LSD (League for Spiritual Discovery) Center in New York City.  He spent some time at the Center, becoming acquainted with Eastern philosophies.  There he met Leary.

"At that time Leary's manner and way of talking indicated a man of tremendous intelligence and understanding.  He was sure of himself-yet gentle and easy to talk to."

Jerome feels Leary "has been changed by all the trouble he's been under.  Leary now advocates things totally different from what he did then.  He was willing to set himself up as a target for what he believed in, but he never had any control over those who set themselves up as his followers, and he ended up holding the bag."

Jerome then tried communal life in Southern California before moving to San Francisco and Haight St., "the biggest circus ever invented.  It was great fun for a while but I had no money and knew if I enlisted in the Army again I would get $3,600.  The lure of the green siren again took its toll."

He re-upped and was sent to Germany as a draftsman.  But after Haight St. , his heart wasn't in it.  "Then a strange thing happened.  One day I suddenly forgot how to put on a uniform or talk, and was put in the psycho ward as an inducement to remember.  But, like many other military endeavors it didn't work."

He was returned to Fort Gordon, Ga., and honorably discharged "for the good of myself and the service."

Next followed a couple months of aimless wandering around the states.  In early 1968, Jerome found himself in Los Angeles again.  With no steady job, he decided to head for Hawaii.

He made his way to Lahaina, took a room in the Lahainaluna Hotel, and began drawing portraits on Front St., a business venture he describes as "glaringly unsuccessful."

He lived at Makena Beach when there where only six others there and spent several months at the Banana Patch, taking farm labor jobs a day at a time.  After that, it was three years getting to know "Mother Maui" as a living being instead of a piece of rock in the middle of the ocean.  And coming to the realization that despite differences in age and lifestyles, "we're all members of the same family."

With the growing success of Haleakala Graphics, and other ventures, Jerome is breathing a little easier these days.

His works have been displayed in Honolulu as well as several places on the mainland.

In Lahaina, he has displayed at Lahaina Studios, the former Martin Gallery and Emeralds International.  He also has shown his work at the Village Gallery at Whaler's Village, and has a mural at Happy Folks in Wailulu.

With Jerome's dedication to art-and with a little help from his friends-it appears that he will no longer be "up against the seawall".


To Return From Jerome To The Maui Of Yore-Click Here
To Go To Banana Patch-Click Here
To Go To Bad Beards On Maui-Click Here
To Go To Maui Beaches-Click Here
To Go To Maui Hippies-Click Here
To Go To Hawaii Printing-Click Here
To Go To Tie Dyeing-Click Here