Kennedy Shrine In Maui Interests Senator
BY BUCK QUAYLE

Re: Kennedy Shrine in Iao Valley.
U.S. Sen. Edward Kennedy phoned County Councilman Joe Bulgo last week, expressing interest in the rock likeness of his late brother John F. Kennedy which is found in the Black Gorge in Maui's Iao Valley.
Kennedy said he was "very much impressed about the identity and would like more information about the valley".
Bulgo has been corresponding with Kennedy in an effort to have the site declared a national shrine.
Bulgo said the natural rock outcropping is situated to the right of the road going to Iao Needle, at the last turn before the parking lot below the Needle.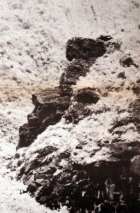 The profile, which bears an uncanny likeness to the late President, is readily recognizable when the lighting is right.
Last Wednesday (Aug. 18), Kennedy viewed slides of the profile at the office of Honolulu architect John Carl Warnecke, a personal friend.
Studies of the information were made at the request of Kennedy by Warnecke and his associate Walter Tagawa.
A review of their findings apparently was one of the main reason's for Kennedy's surprise visit to Honolulu on his return from Asia, where he investigated the Pakistan civil war.



To Return From Kennedy Shrine To The Maui Of Yore - Click Here
To Go To Haleakala - Click Here
To Go To Buddhist Cultural Park-Click Here
To Go To Jack London Haleakala-Click Here
To Go To Maui Libidinous Solicitations-Click Here
To Go To Upper Front Street-Click Here
To Go To Maui Dogs-Click Here