Humans Ponder Dogs' Destiny
Dog Gone It...Better Paws For Reflection
BY BUCK QUAYLE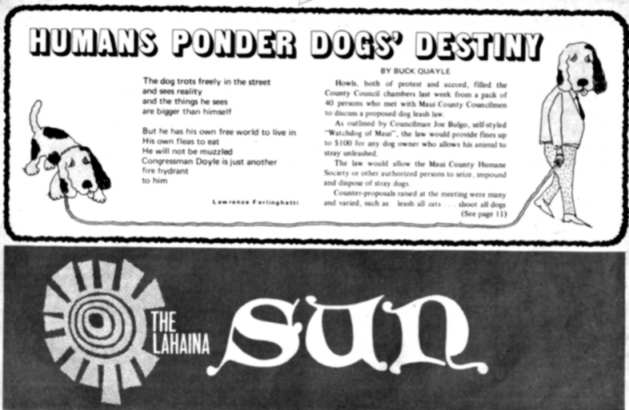 The dog trots freely in the street
and sees reality
and the things he sees
are bigger than himself
But he has his own free world to live in
His own fleas to eat
He will not be muzzled
Congressman Doyle is just another
fire hydrant
to him
Lawrence Ferlinghetti


Leash Law: Dogs Under Discussion
Howls, both of protest and accord, filled the County Council chambers last week from a pack of 40 persons who met with Maui County Councilmen to discuss a proposed dog leash law.
As outlined by Councilman Joe Bulgo, self-styled "Watchdog of Maui", the law would provide fines up to $100 for any dog owner who allows his animal to stray unleashed.
The law would allow the Maui County Humane Society or other authorized persons to seize; impound and dispose of stray dogs on the island ... leash dogs during the night only... spay female dogs … require all dogs not on a leash to be kenneled or fenced in…permit complete freedom for all dogs.
Barbara Long of ARF (Against Regulation and Fines), a group formed in opposition to the dog leash proposal, said the organization favors an increase in the dog license fee from the present $1 per year to $5 or $10.
This additional money,she said, could be used for operation of the Humane Society. Also proposed by Mrs. Long was a reduction in the cost of spaying, which now costs $25 on Maui.
These proposals were made during Mrs. Long's presentation of an anti-leash petition signed by 175 registered voters and property owners.
Much vocalization-ranging from emotional soliloquies and philosophical explorations on a dog's "quality of life", to the "let us reason together" approach-filled the council chambers.
About a dozen persons at the hearing provided most of the anti-leash oration, with some three or four in strong opposition. The general consensus, however, seemed to be for increased license fees, and for some restrictions on dogs in urban areas but not in rural areas.
The Maui County Humane Society, in a letter from President Evelyn Milne, opposed the law as being unenforceable. If the law were passed, the society would be largely responsible for enforcing it. At the present time the Humane Society employs one full-time director and one dog warden.
Questions of additional financing for the Humane Society-which would be necessary if the bill becomes law-were kept to a mimimum by Council Chairman Goro Hokama. Hokama explained that financing would be looked into in more detail if the bill becomes law.
The hearing ended after two hours and 45 minutes. The County Council now must decide how it wants to handle the proposed law.



The Maui Lahaina Sun:
News, Alerts and Offers
Sign up right now! Why? Time-Sensitive Discount Vacations! That's why!
With your name on the "Alert" list-you can strike while the iron is hot. Even though you don't know how long it takes to heat up!
I've been offered several Discount Vacations and Cruises and am trying to provide the same for you.
You also receive Old and New News from Maui, Hawaii. If you enjoy reading this site-you'll get more.
And we have Surprises!!! Everyone likes nice surprises. Especially when least expected!
Enjoy!
We hate spam as much as you do.
So please confirm your participation in our Thank You E-mail.
Thanks. See you.


To Return From Dogs To The Maui Of Yore-Click Here


To Go To Councilman Bulgo Scrambles-Click Here


To Go To Maui Beaches-Click Here


To Go To Legalize Marijuana No-Click Here


To Go To Legalize Marijuana Yes-Click Here


To Go To Bad Beards On Maui-Click Here


From Dogs To Haleakala-Click Here


To Go To Lahaina Petting Zoo-Click Here