Maui Motor Coach Tour
BY BUCK QUAYLE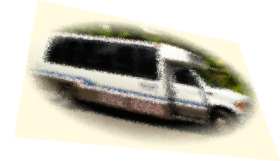 A Maui motor coach tour, private bus rental, may be useful when a large group of friends and conventioners want a one-day overview of Maui.
Maui bus tours often charge an adult about $100 a day and a child about $60. "Little ones" up to four years old and sitting on a lap are often free. If you want them to have their own seat next to you, you pay the fee for a child.
Many Maui motor coach tours include the top of the volcano Haleakala. I can't tell you how beautiful this is. If you are able to see sunrises and sunsets better yet. If you are there at night, and its not too cloudy, you will probably see more shooting stars than you have ever seen in your life. I used to work there. I was very lucky.
Other usual tours include Iao Valley State Park; upcountry Maui, which is the pastoral-farmland area from 2,500 to 3,500 feet or more; the Hawaii Nature Center; the Maui Ocean Center; Lahaina, the old whaling port and the old capital of Hawaii; the Tedeschi Vinyards and Hookipa windsurfing beach.
Of special interest would be a Maui motor coach tour of the road to Hana. This is an exceptionally beaufiful curvy coastal route. On the way there, the ocean is on your left, with waterfalls and interconected pools on your right. Forgive me for introducing myself so much in this text, but there were times when I would take this drive every weekend. Once again, I was very lucky.
I would hope that every visitor to Maui see Haleakala and the road to Hana.
You'll also find special tours as well. Akina Tours, which used to provide public transportation on Maui, has a history tour. U.S. Coachways has a Lahaina restaurant tour bus, which may be booked at 1-800-359-5991, or online at uscoachways.com.
If you know what you want to see, you can plan your own route and the bus driver or another host or hostest can provide running narative.
If you want to book right now, here are the three companies to check:
Robert's Hawaii Book Online at robertshawaii.com or 1-866-898-2519.
Polynesian Adventure Tours Book Online at polyad.com or 800-622-3011.
Akina Tours Book Online at akinatours.com or 808-879-2828.
The information provided here is "public service" not first hand. The reputation of these companies is very good, however.
You can get around Maui basically by car, taxi, shuttle, double decker, school bus, charter buses, limos, vans, mini-buses, limo buses, scooters, motorcycles, skateboards, bicycles, motor coaches, campers, mule, horse and foot.
My favorite is driving my own van, with a matress in back, and then exploring by foot. While swimming here and there along the way. Carrying my own store-bought on-sale food. But that's just me.



To Go From Maui Motor Coach Tour To The Maui Of Yore-Click Here
To Go To Maui Beaches-Click Here
To Go To Romantic Maui Weddings-Click Here
To Go To Maui Car Rental-Click Here
To Go To Week On Maui-Click Here
Want Fun Things For Bridal Groups On Maui?
See Brenda's Hawaii Wedding Guide-Here