12-Story Maui Surf Hotel
To Open Monday
From The Lahaina Sun 1971
It didn't seem possible last week, but Kaanapali's new 12-story Maui Surf Hotel is scheduled to open its doors for business this Monday (Aug. 1).
Carpenters, masons, plasterers, carpet layers, paving crews, cleaning ladies and a dozen other types of workers were busy late last week putting a thousand and one finishing touches on the 354-room building.
Every one of those 354 rooms is scheduled to be ready for guests on Monday. Also to be open on Monday, is a seperate round structure which houses the hotel's Quee Queg restaurant and Pequod Bar.
The Maui Surf Hotel is the latest addition to a growing number of luxury hotels at Kaanapali, which now includes the Maui Hilton, Sheraton Maui, Royal Lahaina and Kaanapali Beach. The Maui Surf Hotel brings the number of hotel rooms at Kaanapali to about 1850.
When the hotel operation is fully underway, it will employ between 220 and 250 persons, with an estimated monthly payroll of between $85,000 and $90,000.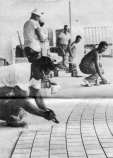 The big building, built in the shape of a very elongated 's', is situated on 12 acres of oceanfront property at the southern end of Kaanapali, less that four miles from Lahaina.
The $10 million building has been under construction since May 1970. Prime contractors on the hotel, designed by Sam Chang Architect & Associates of Honolulu, were Pacific Construction Co., Ltd., and R.M. Takeyama, Inc., both of Honolulu.
The hotel also includes a ballroom that will be able to handle up to 600 persons for meetings and 450 for banquets.
The Pequod Bar is the most singular attraction of the new hotel, featuring the bow, figurehead and deck area of a sailing ship as part of its interior. Guests will sit at tables on the deck of this landbound "ship", and look outside at two small whaleboats mounted on davits above a moat.
The Hotel is owned by InterIsland Resorts of Honolulu and Connecticut General Life Insurance Co., and will be operated by InterIsland. Karl Rathgeb, former exectuve assistant manager of the Kauai Surf, is manager of the hotel.
Although guests will be received at the hotel beginning Monday, grand opening ceremonies are not scheduled to be held until sometime in September.



To Return From Maui Surf Hotel To The Maui Of Yore-Click Here
To Go To Councilman Bulgo Scrambles-Click Here
To Go To Kaanapali Airline Franchise-Click Here
To Go To Kaanapali Dedication Day-Click Here
To Go To Interisland Hydrofoil-Click Here
To Go To Interisland Ferry-Click Here
To Go To Promotion-Click Here