Interisland Hydrofoil Fleet
Proposed For Hawaii
Interisland Hydrofoil Proposed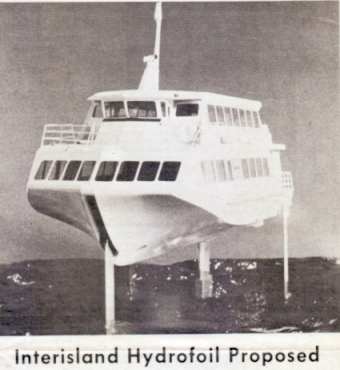 A fleet of 50-mile-an-hour passenger boats may be in service in Hawaiian waters within the next few weeks.
Plans for an interisland hydrofoil transportation system were presented to Maui Mayor Elmer Cravalho, County Council members and directors of the Maui Chamber of Commerce last week by representatives of Kentron Hawaii Ltd. of Honolulu.
Ralph Patterson, research specialist for Kentron, said the company would like to start with five 190-passenger jetfoil boats, built by Boeing.
He said three of the 87-foot hydrofoil boats, capable of speeds in excess of 50 miles per hour, would be used in a shuttle service between Honolulu Airport and Waikiki. The other two probably would be used for daily interisland service.
Two or three more hydrofoils, each costing $4.5 million, would be added later.
Financing for the program will come from private sources. No federal, state, or county funds would be required.
The only state support required is a lease for terminal sites (which, however, are not necessary to commence operations) and permission from the State Public Utilities Commission to conduct the service.
Kentron is expected to present the idea to the commission in the near future.
Interisland fares probably will be between $11 and $13 according to Patterson. Kentron says the boats' air-conditioned passenger cabins will be quieter inside that any commercial airplane. Food and beverage services will be available.
Patterson said development of submerged foil, waterjet-propelled craft by the Boeing Co. has been proceeding for the past nine years.
With this system, the foils ride beneath the water and are not affected by waves, as are hydrofoil craft which ride the surface.
He said the only wind conditions which would affect operations would be a steady wind of over 60 knots.
Kentron says the jetfoils would travel from Honolulu to Lahaina in a little less than two hours. Other possible ports of call include Kahului and Hana, Nawiliwili and Hanalei on Kauai, Kailua-Kona and Kawaiahae on the Big Island, Haleiwa on Oahu and Kaunakakai on Molokai.
Kendron is not the only company with plans for interisland water transportation.
John J. Hulten presently is trying to raise $1.5 million for a 422-foot, 22-knot ferry to be used in service by 1973. The boat could carry 1,400 passengers and 300 autos.
The Dillingham Corp. also has plans for a ferry. The firm proposed a 180-foot craft which would carry 200 passengers and 40 cars.



---



Call To Action:
Send Your Ships Out-So They May Come In


The Maui Lahaina Sun:
News, Alerts and Offers
Sign up now! Why? Discount Vacations and Cruises! That's why!
With your name on the "Alert" list-you are ready to go. Even though you may not know when that will be.
I've been offered several Discount Vacations and Cruises and am trying to provide the same for you.
You also receive Old and New News from Maui, Hawaii. If you enjoy reading this site-you'll get more.
And we have Surprises!!! Everyone likes nice Surprises. Especially when least expected!
Enjoy!
We hate spam as much as you do.
So please confirm your participation-when we E-mail you to check.
Our Thank You E-mail will follow.
Thanks. See you.



---



To Return From Interisland Hydrofoil To The Maui Of Yore-Click Here


To Go To Interisland Ferry-Click Here


To Go To Discount Maui Airfare-Click Here


To Go To Kaanapali Airline Franchise-Click Here


To Go To Maui Motor Coach Tour-Click Here


To Go To Maui Car Rental-Click Here


To Go To Mala Wharf-Click Here


To Go To Whales-Click Here