Kaanapali Airline Franchise


BY BUCK QUAYLE


Kaanapali Airline Franchise

Exclusive rights to scheduled passenger flights in and out of the Kaanapali airport are expected to be given soon to Royal Hawaiian Air Service.
Negotiations have been underway between representatives of Amfac, Inc., owner of the airport, and the Makai Corp., owner of Royal Hawaiian.
An Amfac official said the exclusive air taxi franchise would be subject to review after a one-year trial period. He said that continuation of the franchise agreement would depend on how well Royal Hawaiian meets its responsibilities in providing passenger service.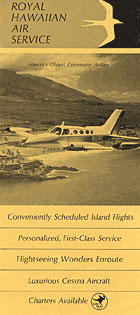 The agreement will affect only air taxi service (that is, scheduled passenger service). It will not affect use of the airport by other aviation firms involved in air freight, charter, or tour services.
At the present time, Royal Hawaiian is the only carrier providing regular passenger flights through Kaanapali. Royal Hawaiian has maintained an operation at Kaanapali for the past six years.
According to Amfac, a number of other small airlines have tried to operate at Kaanapali, but have not been successful. In some cases, Amfac has lost money when an aviation firm went out of business.
The Amfac official said that Royal Hawaiian should be able to handle the bulk of the heavy summer passenger traffic without difficulty. He said, however, that the airline cannot be expected to maintain flight schedules in order to handle all passenger demands, particularly during peak periods.



To Return From Kaanapali Airline Franchise To The Maui Of Yore-Click Here
To Go To Discount Maui Airfare-Click Here
To Go To Maui Air Bargain-Click Here
To Go To Maui Car Rental-Click Here
To Go To Best Maui Restaurants-Click Here
To Go To Sun Travel Discounts-Click Here
To Go To Buddhist Cultural Park-Click Here