A Busy, Busy Police Phone
Tie-up


BY BUCK QUAYLE, 1971


A Busy Police Phone can be a huge problem anywhere where life is at stake. This was the case in the past, for a limited period of time. The problem has been solved - see update at the bottom.
Several times during the course of tracking down stories, the Lahaina Sun has received telephone busy signals from the police stations in Lahaina and Wailuku.
Last Thursday afternoon, a call to Maui Police Chief Abraham Aiona was attempted. Four calls, with the phone ringing at least 10 times each call, were necessary to receive a connection.
A subsequent call to Capt. Kiichi Takahama of the Lahaina Police station took even longer. This time four calls were made with no connection whatsoever. The fifth call was connected long enough for "hello", and the line went dead. A sixth call was a repeat. The seventh call got through.
The busy police phone problem
Aiona reported he was aware of the problem in the Wailuku headquarters. He said a budget appropriation for an additional trunk line has been included in a budget request. If approved, Aiona said, the additional trunk would be installed immediately.
He said he was not aware of any problems with the Lahaina phone system.
Takahama, when finally reached, agreed they were having problems with the Lahaina line. He said it wasn't so bad now, however. A couple of months ago, they couldn't even call out.
Takahama said there are three phones at the Lahaina station and the department can't afford more. He seemed to feel the Lahaina station could make do until it moves to new quarters in the Wahikuli area at the end of next year.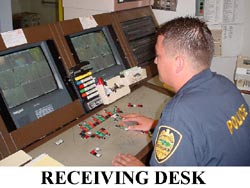 UPDATE, from Maui Police Department Official Website
Receiving Desk
The Communications Section is comprised of two separate sections, Dispatch and the Receiving Desk.
Dispatch receives all calls for assistance for police, fire and ambulance, and dispatches the appropriated personnel to assist while providing radio communications to field units.
The Receiving Desk is the central booking and holding facility for all arrests.


To Return From Busy Police Phone To The Maui Of Yore-Click Here


To Go To Lahaina Crime Punishment-Click Here


To Go To Maui Beaches-Click Here


To Go To Lahaina Sun Misquote-Click Here


To Go To Three Maui Arsonists-Click Here


To Go To Maui Jail Closed-Click Here


To Go To Maui Crime-Click Here