Lahaina Carthaginian Sinking
FROM WHEN YOUR GRANDPARENTS DANCED ON TABLE TOPS


Lahaina Carthaginian Sinking, 1971
A voracious little worm nearly brought disaster last week to one of Lahaina's most popular attractions, the Carthaginian sailing ship.
A piece of hull sheeting, weakened by worm infestation, gave way below the water line and let sea water inside as the big 93-foot bark sat in its berth in front of the Pioneer Inn.
The boat was soon wallowing in some one and one-half to two feet lower in the water than usual. Inside, about three and one-half feet of water filled the main hold area where relics of Lahaina's historic whaling days are on display.
The ship is owned by the Lahaina Restoration Foundation, which sells admission tickets to board the old vessel. The Carthaginian is restored and rigged as an 18th century whaling ship.
The incredible news that the Carthaginian was sinking was discovered early Wednesday by Don Bell, skipper of the boat. Bell, who lives on board, went below first thing in the morning to fix coffee in the galley, and nearly had to swim to the coffee pot.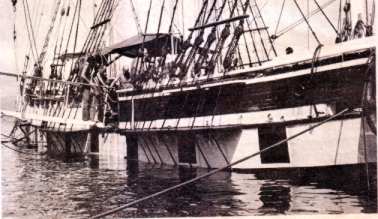 By mid-morning, the Carthaginian and the nearby dock were swarming with firemen, officials, boat owners from the neighboring small boat harbor, various and sundry helpers, and lots and lots of spectators.
It took a good deal of sweat, and as many as 13 pumps at one time, to empty out the vessel. Help came from the County Fire Dept., Pioneer Mill, Amfac Properties, Captain George Parker of the Mona II and other boat owners, the Coast Guard, and others.
For spectators, the sinking of the Carthaginian seemed to be more like a picnic. There was a lot of smiling and laughing, and every other bystander had a camera.
By noon, the Carthaginian was pumped out and had bobbed back up where she belongs. The hole in the side was patched with a lead plate and caulking. At last report, the Carthaginian remained above water.
2009 Update: The sinking of the Carthaginian, Maui's new artificial reef in Lahaina, took place in December 2005.





To Return From Lahaina Carthaginian Sinking To The Maui Of Yore-Click Here


To Go To Maui Goodtime Guide-From Lahaina Carthaginian Sinking-Click Here


To Go To Kaanapali Dedication Day-Click Here


To Go To Maui Sacrificial Temples Update-Click Here


To Go To Maui Unclassified Ads-Click Here


To Go To Hawaiian Catamaran-Click Here


To Go To Maui Beaches-Click Here


To Go To Maui Libidinous Solicitations-Click Here Sweet Thing