Maui Goodtime Guide
BY BUCK QUAYLE,1971
Recreation

2 1/2-hour sunset cruise on the 65' ketch Viajero. Your most memorable adventure in Hawaii. Dinner optional. 661-4036.
Skindiving Hawaii-Oldest & largest in the islands. Instructors who know local waters to take you to the best areas for shells, coral or fish. Dive trips to Molokini and Lanai. 661-3990. 713 Front Street, Lahaina.
Sailing-Aboard the 36-foot sloop Scotch Mist, out of Lahaina Harbor. Three hours along Maui's beautiful coast-line, or all day to secluded Manele Bay on Lanai, incl. snorkeling and picnic. 661-0386 or 669-6247.
Kaanapali Sailing Charters-Bareboat, or with licensed skipper. Cal 20 & Islander 29. 661-0903 or 878-6692.

Kula Botanical Gardens-Loc. Hwy. 377. Gift shop-snacks. Tropical plants-Picnic area.
Tennis-John Gardiner's Tennis Ranch at the Royal Lahaina in Kaanapali. Six championship courts, complete pro shop. Tennis clinics daily by appointment. Public welcome. 661-3611, extension 253.
Shopping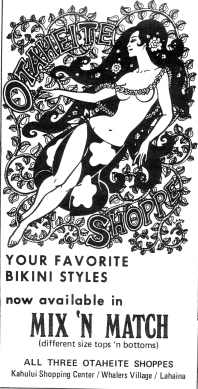 Otaheite Shop-Unique, and original, Tathitian print men's and women's sportswear, manufactured by Otaheite on Maui. Our own silk screened T-shirts. Over 50 original designs. 732 Front Street, Lahaina, Whaler's Village, and Kahului Shopping Center.
Village Gallery-Whalers Village lower level. Art, framing & art supplies. 661-0196.
Shipshape Shipping Service-Whalers Village lower level. Packaging & mailing. 661-0196.
Napili Village General Store-Your complete one-stop center for groceries, liquor, gifts, Hawaiian clothing and everything else under the sun. Fun and friendly. 8 to 8, seven days a week. We deliver. 669-6773. Turn in at entrance to Napili Village.
The Book Cache-Unique exciting book store featuring books for all ages. In fabulous Whalers Village. 661-3259.
Whalers Village & Museum-Quaint shoppes with wares of every description. Hundreds of antiquities recalling the boisterous years of the great whalers. The most unusual shopping/museum area in the Pacific . . . and right on the ocean at Kaanapali Beach Resort. 9:30 - 5:30 daily.
Cynee Boutique-The one stop in Lahaina for a contempary look. Conveniently located in the Lahaina Shopping Center. You'll find a full selection for sports, work, school, or evening. 661-3104.
Clyde's Shoes & The Sandal Shop-Where you find footwear-shoes, slippers, or sandals-for everyone. Biggest selection on the island, and the most up-to-date models always. Lahaina Shopping Center, 661-4050, and 56 Market St. in the heart of Wailuku. 244-0166.
Ikeda's-Department store in the Lahaina Shopping Center. Hawaiian wear for the entire family. Souvenir items, fabrics, luggage, and name brand ready-to-wear.
Ned Brig's of Lahaina-Fine men's resort wear. Slacks, Hawaiian sport coats-Alhoa shirts, Bermudas. Corner of Lahainaluna and Front Streets in the old Lahaina Market Place.
Malia's-Books, cards and gifts. Haw'n records. Cameras & film: one-day developing. Lahaina Market Place.
Horizon West-A complete line of tasteful home furnishings and accessories. Features unique gifts, art objects and custom picture framing. Decorating service. 758 Front Street. 661-3838.
Lahaina Fashions-For men, women and the kids, Lahaina Fashions offers a complete line of casual and dress-up apparel. A large store with a wide selection of Hawaiian wear and gifts. 744 Front.
Fancy & Free-851 Front St. Boutique extraordinaire. Hand crocheted bikinis, etc. South African jewelry, chic fashions for every age.
Incite Shops-815 Front St. Hand-screened T-shirts and tank tops. Trunks and bikinis. 813 Front: Natural foods. Organic grown grains, fruit, nuts, herbs, cheeses, juices.
Four Winds-Men's clothing and hair styling. We feature unique mod. styles. 10 to 5. 816 Front/Lahaina/661-3700.
Nagasako Supermarket-Conveniently located in the Lahaina Shopping Center. Nagasako offers West Maui's widest selection of groceries, meats, fresh produce, fish and liquors. Roomy aisles, air conditioning, fast service.

Squire's Men's Shoppe-Casual dress & swim wear for the man who values good appearance. Wide selection of name brands: McGregor sportswear, Day's slacks, Lee pants, Lolani sports shirts, Volare shoes. 712 Front. 661-3280.
Hale Bikini-Bikinis : Custom made in 24 hours. Personal attention in fitting. Beautiful designs for your beautiful body. Sunshine apparel, clothes to make you smile. 706 Front St., Lahaina.
Party Pantry-Royal Lahaina Hotel and 1217 Front St., Lahaina. Air conditioned and attractive, for all your party needs. Liquor, wines, food, and bright attractive gifts for all occasions. Delivery service. 661-3577. Every day 8 a.m. to 10 p.m. (Sunday 'til 7 p.m. in Lahaina).
Kalele's Beauty Salon-Complete hair styling services in air conditioned comfort, overlooking Lahaina banyan tree and yacht harbor. Beautiful view, beautiful you. 661-0939. 658 Front St.
Summer Palace 855 Front St. on the ocean. Bargains in men's and women's Hawaiian wear for the budget-minded shopper. Custom jewelry & handmade pottery.
Emeralds International-The only shop in the United States specializing exclusively in emeralds. At from mine-to-you prices. Special order manufacturing. Jewerly repairs and sizings. Wide selection of loose cut and rough emeralds, $2 per carat and up. 858 Front St., Lahaina. 661-3711.
The Maui Lahaina Sun:
News, Alerts and Offers
Sign up Now! Why? Discount Vacations and Cruses! That's why!
I'm trying to get you the same time-sensitive trips which have been offered to me. Neither you nor I know when they might appear. So get on the list and you'll be covered. Honeymoon anyone?
You'll receive Old and New News from Maui. If you enjoy reading this site-you'll get more!
Surprises!!! Out of the blue-I'll surprise you with something.
We hate spam as much as you do.
So please confirm your participation in our Thank You E-mail.
Thanks. See you.
Dining
Coconut Grove Restaurant-Cuisine of the Pacific. The Gourmet of Polynesia. Specialite d'la Maison: Lobster Tahitian;Keawe Broiled Steaks. Dinner from 6 p.m. 661-4075. Front & Kapunakea Sts.
Rusty Harpoon-Whalers Village. Home of the world famous fresh fruit daiquiri. Bar opens 9 a.m. every day. For lunch: the Super Sub. Happy Hours 5-7 on the fabulous sunset lanai. Entertainment Friday, Saturday and Sunday nights.
Buzz's Sugar Cane Inn-Fine dining, magnificent Pacific view. Cool, gracious, unhurried. Island and Continental dinners. The rustic stone walled building with the waterfall, north end of Front St., Lahaina. Dinners only. Cocktails from 4:30. 661-0964.
Buzz's Downtown-Visiting Lahaina? Relax for lunch in the only dining room in town built over the ocean. Or dinner, from 5 p.m., featuring fresh fish, lobster, choice beef. Cozy bar. 661-0964. After 5: 661-3472.
Geno & Keith's-848 Front. Downhome. Still here.
The Vineyard Tavern-Pizza, beer and wine, cheap thrills, good sounds, a casual trip. Featuring Joe the Bartender. Open nitely except Sun. at 5 p.m. 2171 Vineyard, Wailuku. 244-9597 for pizza to go.
Morikawa's-Japanese & American family meals; reasonable prices. Lunch 11-2;dinner 5-9. Closed Mon. 754 Front St.
Sunset Freeze Drive-In-Burgers, plate lunches, fishwiches, shakes, sundaes, cold drinks. A refreshing oasis on a hot Lahaina day. Front Street, across from the Lahaina Banyan Tree.
Chez Paul-Exquisite French cuisine. Dinners from 6 p.m. (Closed Sun. & Mon.) At Olowalu, 4 miles south of Lahaina. Reservations: 661-3843.
Pineapple Hill Restaurant-Gourmet dining high within the fields of pineapple, overlooking the ocean and sunsets unparalleled. Featuring Chicken Pineapple Hill and fresh Maui Turtle Steak. Courtesy rides from the Kaanapali-Napili area. 661-0964. After 5: 669-6129.
Whale's Tale-Restaurant and bar. Famous for excellent lunches and dinners, authentic nautical decor, and Hawaiian hospitality 7 days a week. Open and serving, 10 a.m. to midnite. Front Street, overlooking the Lahaina Banyan Tree. 661-3094.
Maui Surf Hotel-New Quee Queg restaurant, Polynesian Festival nitely except Thurs. Unique Pequod Bar. Nitely special buffet at Eight Bells restaurant, live piano. 661-4411.
Maui Hilton-Choose between famous Lokelani dining room and Whalers Steakhouse. Food unexcelled. Friendly service with local entertainment nitely. Dancing on terrace. Dinner 6:30 p.m. but go early for cocktails for sunset. Reservations suggested. 661-3641.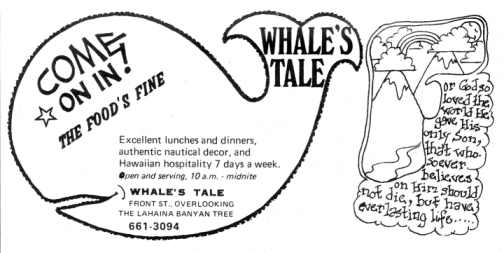 Lodging
Mahina Surf-Large new condominium complex with outstanding view of the islands of Lanai & Molokai. Pool and beach swimming, just minutes from Kaanapali Resort area and golf courses. Completely furnished with full kitchens. Write RR 1, Box 100, Lahaina, Maui, or phone 669-6068.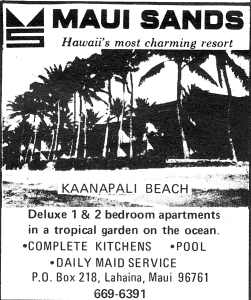 Pohailani Apartment Hotel-Studio and 1 bdrm. units with kitchenettes. Sandy beach right outside your door. 669-6125. (RR1, Box 479, Lahaina.)
Maui Sands-On the beach at Kaanaplli. Just minutes away from golf courses and old Lahaina town, set in lush tropical grounds. Fully furnished one and two-bedroom apartments with all electric kitchens. Swimming pool and ocean lagoon. Good snorkeling. Laundry facilities. Write P.O. Box 218, Lahaina, or 669-6391.
To Return From Maui Goodtime Guide To The Maui Of Yore-Click Here
To Go To Lahaina Shopping Center-Click Here
To Go To Kaanapali Dedication Day-Click Here
To Go To Discount Maui Airfare-Click Here
To Go To Maui Car Rental-Click Here
To Go To Maui Beaches-Click Here
To Go To Maui Chips-Click Here
Take A Look-Get Me To Maui