New Lahaina Shopping Center
Sprouts In Spring
Others Burgeon And Bloom
BY DON GRAYDON

A new Lahaina shopping center begins construction in Spring.
Dillingham Land Corp. of Honolulu is working on plans for the small center, to be located on three acres across Wainee St. from the Lahaina Shopping Center.
The new center now adds to the burgeoning shopping center activity on Maui.
Retail activity at A&B's Maui Mall in Kahului was scheduled to start today with the opening of the 27,000-square-foot Long's Drug Store. A 25,000-square-foot Star's Market will open at the Mall in February.
Also in Kahului, Dillingham Land Corp. is planning a shopping center on 26 acres of Maui Land & Pineapple Co. property across Kaahumanu Ave. from Foodland.
Principal tenants will be Sears and Liberty House.
The new center planed for Lahaina is expected to include about 50,000 square feet of store and office space. The existing Lahaina Shopping Center has close to 50,000 square feet of store and office space, in addition to buildings housing the Bank of Hawaii and the post office. The Kahului Shopping Center has 120,000 square feet.
The Lahaina property was sold about a year ago by Amfac to Wailuku realtor Masaru "Pundy" Yokouchi and a group of associates.
The agreed sale price, according to the State Tax Office, was $492,664, or approxamately $3.75 per square foot.
Dillingham Land Corp. has been retained by Yokouchi to serve as developing agent.
Prospective tenants for the new center are now being contacted and some commitments have been made. However, the names of the tenants have not yet been announced.
Tenants at the Maui Mall, in addition to Long's and Star, will be Kaneshige Jewelers, Maui Frontiers food service, Jade Food Products (crack seed), Roy's Photo, Apparels Hawaii, MJS Music Co., Roland's Footwear and Otaheite.
These first phase tenants will occupy about 68,000 square feet of store space. Plans for the Mall provide for an eventual total of as much as 300,000 square feet of store and office space.
The only stores announced to date for the Dillingham center near Foodland are Sears and Liberty House. Both firms hope to have stores in operation by late next year.
The Maui Mall and Dillingham center both have been seeking the Woolworth Co. as a tenant.
The existing Kahului Shopping Center, developed by A&B, eventually is to be demolished and redeveloped, although A&B stresses this will take a number of years.
In the near furture, A&B intends to develop two-story office buildings on unoccupied land on Kamehameha Rd. at the rear of the center. These are to include a 30,000 square foot building at the corner of Kam and Lono and a 40,000 square foot building at the corner of Kam and Puunene.
Plans call for eventual development of a recreation and entertainment area, possibly including a bowling alley and theater, along Puunene Ave. The central area of the present center could become a landscaped town square, with possibly some commercial buildings at the front, facing Kaahumanu Ave.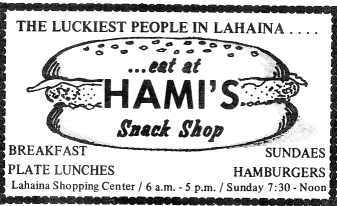 To Return From New Lahaina Shopping Center To The Maui Of Yore-Click Here
To Go To Maui Goodtime Guide-Click Here
To Go To Food-Click Here
To Go To Week On Maui-Click Here
To Go To Interisland Hydrofoil-Click Here
To Go To More Maui Restaurants-Click Here
To Go To Best Maui Restaurants-Click Here