The Strange Wonderful Story Of
Maui Chips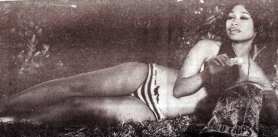 BY DON GRAYDON

The first thing-in addition to Maui Chips-the newcomer to Maui learns about is the magnificent Haleakala volcanic crater.
The second thing is the beautiful Hana area of East Maui.
The third thing is Maui Chips, those dark, heavy, brittle, gnarled chunks of fried potato that have become something of a Maui tradition.
Although this article may read like a commercial, thousands of Valley Isle residents would agree that our Chips-along with the Lahaina Whaling Spree, Mayor Elmer Cravalho, and the Iao Needle-represent one of Maui's unique contributions to the world.
There is a strange and wonderful story behind the creation of these unique potato chips. Or so I hear. Because the owners aren't talking. A visit last week to the little tin-roofed building on a Wailuku side street resulted in little more than a glimpse inside and a few noncommittal remarks from the manager.
Although friendly and considerate, the manager made it clear his company has no desire for any articles about his merchandise.
"We already can't handle the orders we get," he said.
And he's right. Just try and find a bag.
At Nagasako's Supermarket in Lahaina, employees will accept reservations for a bag of chips. When the chips are delivered, a bag will be set aside with your name on it.
The Maui manager is well aware of the problem. Which is why he'd just as soon have no publicity.
According to him, the only way he can meet the demand for the chips is to go into mechanized mass production. But the only way he can create the chips that people love is to continue with his slow, largely hand-done operation.
Sort of a Catch-22 of the potato chip game.
So Mauians are between a rock and a hard place. If they want their chips-super salty, very crunchy, dependable dark and misshapen-they will have to put up with waiting their turn.
And now into the breech steps the Frito Lay company of Hawaii. A manufacturer of the more standard form of anemic potato chip, Frito Lay has come up with something it calls Maui Style potato chips. Initial reports indicate that-The Real Thing-has nothing to fear.
Incidentally-the official name of the local potato chips is Kitch'n Cook'd. However, they are known universally as Maui Chips.
But whatever you do, don't ask for them in the neighborhood market.
They'll be out.



---



Call To Action:
Send Your Ships Out-So They May Come In


The Maui Lahaina Sun:
News, Alerts and Offers
Sign up now! Why? Discount Vacations and Cruises! That's why!
With your name on the "Alert" list-you're ready to go. Even though you may not know when!
I've been offered several Discount Vacations and Cruises and am trying to provide the same for you.
You also receive Old and New News from Maui, Hawaii. If you enjoy reading this site-you'll get more.
And we have Surprises!!! Everyone likes nice Surprises. Especially when least expected!
Enjoy!
We hate spam as much as you do.
So please confirm your participation-when we E-mail you to check.
Our Thank You E-mail will follow.
Thanks. See you.



---



To Return From Maui Chips To The Maui Of Yore-Click Here


From Chips To Food-Click Here


To Go To Discount Maui Air Fare-Click Here


To Go To Maui Motor Coach Tour-Click Here


To Go To Maui Goodtime Guide-Click Here


To Go To Maui Car Rental-Click Here


To Go To Mala Wharf-Click Here


To Go To Maui Dogs-Click Here


To Go To Molokai-Click Here