Money?
Think And Grow Rich?
Well...Well Off
BY BUCK QUAYLE
Money was something we didn't have. Not at the begining of The Lahaina Sun. We wore the rags we had and worked for food. The only trading beads entering on a regular basis came from Sharm's teaching job.
Don and Sharm had built a boat and sailed from California to Hawaii. Don, with some 15 years of reporting experience, did what came naturally and started the paper. Sharm was also pregnant-so "we" had to succeed.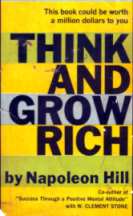 We lived this newspaper-and no one could believe how we did it. Our standard reply to-How can you work so much?-was, that's easy, it feels so good when we stop.
Slowly, advertising increased, and salaries appeared-and grew to a whopping $200 a month. Onward and upward.
We added people-to write for free-about gossip, about the tube (television), about music and about books. Lahaina librarian, Oletha Williams wrote what follows.
To her list, I would add Think And Grow Rich by Napoleon Hill. It's the original.


---
Quiet Please
Here's What We Have
Are you interested in money? In having enought for security? Making millions...or just being an intelligent invester? In knowing how to save and how to spend? What is it anyway and what are the rules of the game? The answers to these various questions depend on you, but if you want help in making up your mind, read a few of the books the Lahaina Library has for loan.
For example, The Money Game by George Goodman, writing as "Adam Smith". (Incidently the real Adam Smith's own evaluation of the money problem,Wealth of Nations, is also available.) Goodman considers income in connection with your personality and goals, then examines the methods of gaining it-all with a fine sense of humor that makes for easy reading. His chapters on analyzing the market trends, on expert advice from college professors (don't laugh-some get big commissions for their services!), on computerized data, and on reactions to gain or loss in the stock market, make fascinating reading even if you don't understand all of it.
Another unique book on making a fortune playing the game is Carl Person's Save-by-Borrowing Technique. This works very well, I expect, if you can convince your banker to loan you the inicial capital, say a thousand dollars, "on the cuff". In case you can get started, advice on what to do next is colaborated by Martin Mayer in Don't Bank On It!. However, Mr Mayer is more interested in insured earnings from savings than in any kind of manipulated profits. These earnings are mostly in the form of higher interest without risk.
Ellen Williamson has written primarily for women "who are rich-or want to be" in Spend Yourself Rich. Much good advice on hobby investments such as stamps, art, antiques, jewelry, autographs and such is interspersed with discussions of "how to spend money to acquire a second husband"!, spending on glamor clothes, investing in "blue-chip land and a tripple-A home".
While still on the subject of money, two other books may be of interest: Harry Brown's How You Can Profit From the Coming Devaluation-a little dated, 1970, but still good-and Scaduto'sGetting the Most For Your Money, good advice for just anyone, anywhere, anytime.
If you are already "fed-up" with money and its problems, why not forget your troubles with a good new mystery? Some of the better ones: Simenon, Margret Hesitates (murder); Marric, Gideon's Power (sabotage-suspense) or a good old Perry Mason by Earle Stanley Gardner, The Case of the Fabulous Fake.
December birthdays: Dec.1, 1886, Rex Stout (Kings Full of Aces, with Nero Wolfe); Dec. 2,1885, Nikos Kazantzakis (Zorba the Greek); Dec. 3, 1857, Joseph Conrad (Tales of Land and Sea); Dec. 4, 1795, Thomas Carlyle (French Revolution); Dec. 5, 1830, Christina Rossetti (Poet: Sing-Song); Dec. 6, 1886, Joyce Kilmer (Poem: Trees); Dec. 7, 1873, Willa Cather (My Antonia). Oletha Williams



To Return From Money To The Maui Of Yore-Click Here
To Go To Lahaina Carthaginian Sinking-Click Here
To Go To Discount Maui Airfare-Click Here
To Go To Maui Police Picnic-Click Here
To Go To Maui Motor Coach Tour-Click Here
To Go To More Maui Restaurants-Click Here
To Go To Hawaii Printing-Click Here
Website Design Maui-Affordable And Friendly Website Design And Development