Museum Work At Sacrificial Temple
BY BUCK QUAYLE
Hawaiian prayers were offered at a sacrificial temple on Maui last week.
Rev. Mary N. Moku(bellow) of Wailuku gave the blessing at the site of the Pihana heiau (temple) before representatives of the Bishop Museum, who will be reconstructing the ancient sacrificial area during the next three months. The temple now is in ruins.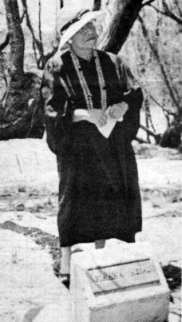 The temple, which is situated near the Paukukalo region of Wailuku just off Kuhio Place, was consecrated by the Hawaiian chief, Kahekili, about 1779.
It measured 300 by 120 feet and was laid out on a terraced stone platform. The temple contained an altar, an oracle tower and homes for priest and king.
The terraces rose to a height of 12 to 30 feet and were constructed of water-worn boulders and paved with beach pebbles.
The temple ruins rest on a rise of ground which overlooks Kahului.
According to Dr. Kenneth P. Emory of the Bishop Museum, "the site will be cleared and maintained as a ruin and work conducted to establish the original setup: walls, terraces and divisions."
He said the foundations will be stabilized and a new survey conducted. He described the temple as "one of the finest sites on the island that is accessable".
In addition to this work, Emory said museum personnel will be looking for other significant sites on Maui in danger of being lost.
Some 300 feet from the temple is the Halekii, or House of Images.
The Halekii was an ancient temple of worship adorned by rows of images-symbols through which the gods could be propitiated by means of prayer and offering.
The exact date of origin is unknown, but it is believed to have been used during the reign of Kahekili, 1765-1794.
The temple ruins rest on a rise of ground which overlooks Kahului.



To Return From Sacrificial Temple To The Maui Of Yore-Click Here
To Go To Haleakala National Park - Click Here
To Go To Lahaina Tong Building-Click Here
To Go To Best Maui Restaurants-Click Here
To Go To Buddhist Cultural Park-Click Here
To Go To Jack London Haleakala-Click Here
To Go To Maui Sacrificial Temples Update-Click Here