USIC
Teams To Maui ?
BY JACK STEPHENS, 1972


USIU Teams To Maui?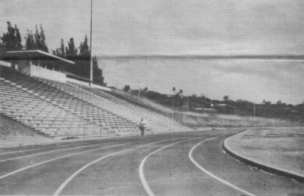 Although United States International University will acquire Maui's Mauna Olu College July 1, it is too early to know if USIU sports teams will make occasional appearances on the Valley Isle.
The football and basketball teams from USIU's Cal Western campus at San Diego regularly play the University of Hawaii. It is unlikely the football teams will play on Maui until the island has a stadium that seats 20,000 to 30,000 spectators. There are now no plans for a stadium that large on Maui.
The new 5,000-seat stadium at the Maui War Memorial Center is designed so that another 5,000 seats may be constructed when the need arises. And that may not be as far into the future as some believe.
There also is room to expand beyond that number. It is possible that in 10 years, a 10,000-seat stadium on Maui will be as obsolete as the grandstands at the Kahului Fairgrounds are about to become.
At any rate, it will be several years before Maui will be in a position to host college football games. This is not the case in basketball.
The Maui Jacks have played a few college teams in the Maui Memorial Gym, and it isn't inconceivable that someday the Jacks will play USIU while the Westerners are in Hawaii to play UH and military service teams.
Last season, the USIU's basketball team lost to UH by one point. UH had its best season in history and played in the National Invitation Tournament in New York City.
USIU basketball coach Bob Kloppenburg has been named a member of the Wilson Century Club. To be eligible for membership in this elite group, a coach must have produced winning athletic teams in 100 or more competitive games in one sport. Kloppenburg easily qualified with his record of 216 wins against only 131 defeats during his tenure at USIU.
USIU also is strong in other sports. Its track team took second place in the District Three meet of the National Assn. of Intercollegiate Athletics, the nationwide athletic organization for small colleges. The team will participate this month in the national meet at Billings, Montana.
USIU took second to Westmont in the district meet, and defeated favored Occidental College, a perennial track power that has produced many U.S. Olympians. Last year, USIU won the meet.
The USIU golf team won the District Three NAIA title and now is competing for the national championship that began yesterday (Tuesday) at Rockford, Illinois. Among USIU's regular season victims was UCLA.
Will USIU send teams to Maui? We'll see.




To Return From Teams To Maui To The Maui Of Yore-Click Here
To Go To Lahaina Tennis Club-Click Here
To Go To Lahaina Canoe Club-Click Here
To Go To Maui Goodtime Guide-Click Here
To Go To Hawaiian Catamaran-Click Here
To Go To Maui Beaches-Click Here
To Go To Maui College-Click Here
To Go To Contact-Click Here