Arthur Ueoka
Former Low Man On The Totem Pole Takes Over The Top Job
BY BUCK QUAYLE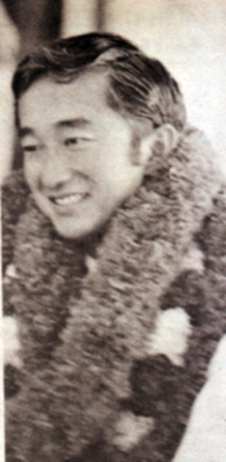 Arthur Ueoka became "low man on the totem pole" in the Maui County Attorney's Office in 1963, when he was hired as a deputy attorney.
Last week, he took over as head man-appointed by Maui Mayor Elmer Cravalho to succeed County Attorney Kase Higa, who has resigned to accept a district court judgeship.
Arthur Ueoka was born and raised on Maui, a graduate of Paia School and Maui High. He attended Washington University at Topeka, Kansas, and received his law degree from Washington's School of Law in 1962.
He worked as a State Supreme Court clerk for six months during 1963, after which he went to work in the Maui County Attorney's Office.
Today, Arthur Ueoka appears to be a busy man. When not working, spearfishing near Paia, or relaxing with his family (wife, two daughters and a son), he has found time for involvement with the Maui Jaycees, Maui Cancer Society, Philharmonic Society, AJA Veterans Club and the Hongwangi Mission in Paia.
"I didn't know I was going to be appointed," Ueoka said, "until I read an article which appeared in the back pages of the Honolulu Advertiser. People would ask me, but I didn't know for sure."
Arthur Ueoka's promotion from Assistant County Attorney leaves a vacancy in the office which is expected to be filled within three weeks. Salaries for the staff of five range from $24,876 for the County Attorney to $22,560 for the assistant County Attorney to $18,500-$15,264 for the deputies.
When asked for an analysis of the various aspects of the County Attorney's Office, Ueoka first brought up the necessity of close work with the police department.
"We have been very active in this area as far back as I can recall," he said. "We are able to work quite well with Chief Aiona."
Ueoka said men from his office sometimes accompany police during arrests to insure search and seizure laws are not violated and citizens' constitutional rights are upheld. He said such procedures also help to curb possible tendencies toward excessive force during arrests.
One particular area of concern, he said, is an increase in crimes against property in the Wailuku, Kahului and Lahaina areas.
Another concern, he said, is the area of organized crime. When asked if he felt the "syndicate" is spilling over from Oahu to Maui, he replied, "I think it is."
Prostitution on Maui is limited, he said. No arrests have been made lately since "we are dealing with a consential crime-and no one calls in to complain." Gambling, however, "is a concern to us".
Ueoka described the County's juvenile counseling program as "successful" and indicated more efforts might be made in this direction.
One particularly sticky problem facing the County Attorney's Office, he said, is trying to decide who should be allowed to participate in police and fire department collective bargaining units.
Under the intent of the law, he said, persons who "speak for the employer" due to their job positions should be excluded from such bargaining units.
The problem is in deciding which positions fall under this category. Specifically in the police department, there is a question whether police captains fall into this catagory.
The County Attorney also spends a great deal of time with legal problems affecting the departments of the County, he said. In particular, he cited legal problems arising from the County Planning Dept. and the County Public Works Dept.
"Basically," he said, "the problem is with the developer who plans construction projects contrary to the general plan and is reluctant to comply with subdivision ordinances."
Ueooka said he plans to have an "open door policy" at his office. This policy will "provide the kinds of services the taxpaying public demands of this office-as long as they are reasonable."
"The makeup of the staff consists of individuals relatively young," he said. "I hope to bridge the gap of the anti-establishment attitudes that exists within the community.
"Unfortunately any time the younger set deals with the County, their attitude is to be on the defensive," he said.
"The open door policy is cultivated to change this."
Ueoka is 36.
2008 update on Arthur Ueoka's importance: The Maui County Bar Association offers the MCBA/Arthur T. Ueoka Scholarship. The award is made annually to a student who is enrolled, or has been accepted, to an accredited law school; has significant ties to Maui County; and demonstrates a compelling financial need.


To Return From Arthur Ueoka To The Maui Of Yore-Click Here


To Go To Lahaina Sun Misquote-Click Here


To Go To Three Maui Arsonists-Click Here


To Go To Aloha Lawbreakers-Click Here


To Go To Busy Police Phone-Click Here


To Go To Maui Beaches-Click Here


To Go To Maui Crime-Click Here


To go To Maui Dogs-Click Here